Hi there,
I have successfully cross-compiled ACADOS for VxWorks 6.9, a 32-bit system running on PPC CPU. Here are the settings


So
The target is set to GENERIC

EXT_DEP is turned off

LA uses REFERENCE

MF uses COLMAJ
The compilation is successful, despite a few warnings. Then I successfully compiled locally the c code of the bicycle model generated from the Python interface. For simplicity, I tested the integrator first.
When I try to run the executable, I got the following output



So basically the code is not working. Ok, I start debug, and found that the error came from the struct mem in the integrator.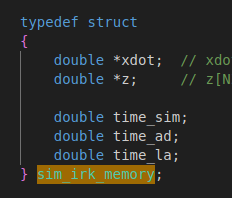 When I try to give values to the mem->time_ad, mem->time_la and mem->time_sim, the error shows. Then I found that these three double variables are not created, or their memory is not assigned properly.



Finally, I simply comment these three lines, and the integrator works!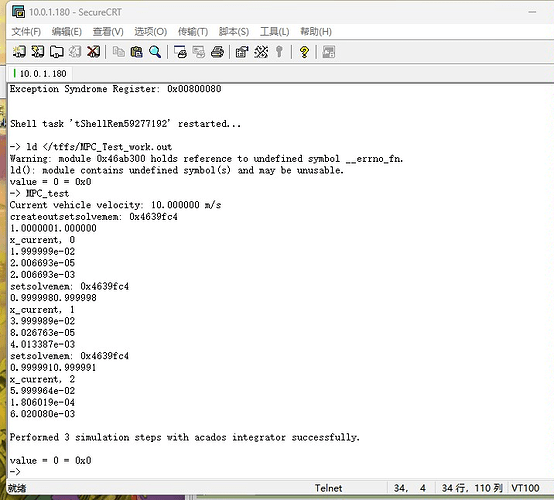 My question is, why is the case? There seems memory alignment or assignment issues, but weirdly everything works fine on Ubuntu 64bit system, and on Speedgoat.
To further locate the problem, I test the OCP example as well, and the code stuck at model->scaling=1.0
The similarity of these two tests is that: both sim_irk_memory and model struct contains a few double pointers and a few double variables. The pointers work fine, but the double variables are crashed. I guess, this is the problem of align_char_to(8, &c_ptr), or any thing related to this?
Thank you for your advice.
Yutao