I'm having trouble solving what seems to be a fairly straightforward problem. I'm using a 2D single integrator model, trying to move from (0,0) towards (10,5), with a two norm input constraint, something like: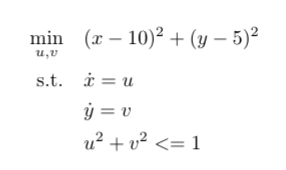 What I would expect is a straight line from the origin pointing towards (10,5). With a one second horizon, the answer should be (0.89443,0.44721). For some reason though, Acados is unable to converge the nonlinear inequality constraint. The solver doesn't seem to make progress towards the solution, and doesn't seem to respect the constraint bounds, though without a converged solution that may not mean much.
What is strange is that IPOPT is able to solve the same problem in just a handful of iterations, producing the expected result. Even when initialized with the solution from IPOPT, Acados does not converge, which makes me wonder if I am missing something. I tried with HPIPM, OSQP, and QPOASES, with similar results from all three.
Is there a reason this specific type of problem might be difficult for Acados to solve?
OCP script:

Model: