Hi,
I'm currently working on an Time-optimal racing MPC problem similar with your time optimal and race example using the acados solver, but I'm having issues with the sensitivity of the solver to the weight parameter and solver options. Specifically, the solver seems to be too sensitive to the weight parameter, making it difficult to achieve robustness of MPC.
I've tried adjusting the weight parameter and scaling my objectives and constraints, but the issue persists. I'm wondering if there are any other strategies I can use to address this sensitivity issue.
I suspect that the issue may be related to the external cost function that need an exact hessian or strong non-linearity in the vehicle tire dynamics. FYI, this is my solver options and error messages.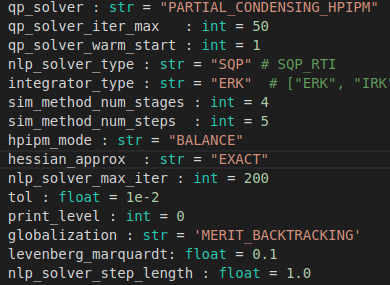 "QP solver returned error status 3 in SQP iteration 1, QP iteration 47"
what can I do to overcome it? Any advice or guidance would be greatly appreciated.
Thanks in advance!