Hi.
Not sure if I have discovered a bug or unintended usage of the MATLAB interface (still haven't got time to investigate). But here follows my observations:
When I call ocp.generate_c_code I get the following error Reference to non-existent field 'dim_nbxe_0' from the script set_up_acados_ocp_nlp_json. I'm using the latest master branch.
Why can't constr_lbx and constr_ubx be used with stage = N without setting constr_Jbx_e, constr_lbx_e and constr_ubx_e?
It seems like the state and input inequality constraints for the terminal stage is not defined/set with constr_lbx and constr_ubx?
Furthermore it would be nice if the problem formulation document (PDF) on GitHub could be updated to reflect the discretized problem formulation (i.e. cost and constraints for each stage) similar to the picture below taken from the ACADOS paper.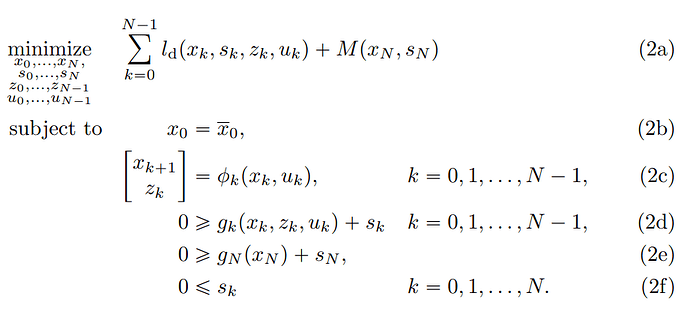 Best regards
Thomas Jespersen